Mrauk U
MRAUK-U - THE RAKHINE ORCHID: 4 DAY/3 NIGHT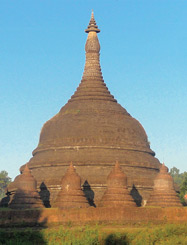 Destination: the fascinating Arakan (Rakhine today) State.
Mrauk-U is the biggest archaeological site in Rakhine State and is located 80 km north of Sittwe in the north-Western part of Myanmar. Travelers have to fly 90 minutes to Sittwe and then make a 5-hour boat trip along the Kaladan River. In this ancient capital founded by Rakhine King Minsawmon in 1433 AD, the Mrauk U period flourished between the 15th century and 18th century. The early 17th century was Rakhine's Golden Age because of its trading with many western countries. Sittwe, the port city, was known as the Golden Gate by the west.
Mrauk-U Temples and Pagodas are strategically located on the hilltops and look like fortresses. There are many countless images influenced by Indian culture and civilization spread all over. Some are in ruins. Shitthaung Pagoda, Kothaung Pagoda, Anndawthein, Laungbonpyauk, Dukkhanthein, and Pitaakataik are famous ancient temples with countless stupas. At about 8 km from Mrauk-U another ancient capital archeological zone (4th century) is Vesali. Vesali was replaced by a series of small cities although Mrauk-U remained.
DAY 1: YANGON>SITTWE>MRAUK-U
Morning transfer to Yangon Airport. Flight to Sittwe. On arrival, welcome and transfer to the boat to Mrauk-U (5-6 hour transfer). Picnic lunch on the boat. Dinner at a local restaurant. Overnight at your hotel.
DAY 2: MRAUK-U
Breakfast at hotel. Full-day visit to the Mrauk U site: Sakyamanaung and Ratanamanaung Pagodas, Andaw Temple which enshrines the Buddha's Tooth. Shitthaung Temple and Htut Kan Sima are next seen. Lunch and dinner at a local restaurant. Overnight at your hotel.
DAY 3: MRAUK-U>SITTWE
Breakfast at hotel. Morning visit to a Mro tribe village, Bandoola Monastery and Palace Wall. Return to Sittwe by
boat after lunch. Late afternoon Sittwe arrival. Welcome and transfer to your hotel. Enjoy a leisurely walk on a
black sandbank near your hotel. Lunch and dinner at a local restaurant. Overnight at your hotel.
DAY 4: SITTWE>YANGON
Breakfast at hotel. Morning visit to the town : local market, Kaladan river port, the Cultural and Buddhist
Museums, Moe Kyaw Thu Monastery and the Mosque. Lunch at a local restaurant.
Transfer to airport. Flight back to Yangon. Transfer to your hotel.
EXTENED TRAVEL PRICE INCLUDES
Domestic flights mentioned.
Transfers and transport mentioned in the particular tour.
All entrances fees, all excursions and visits mentioned with English speaking guide from Yangon to Yangon.
Lodging in double room in the listed hotels (or similar).
All Meals
HOTELS 1st CATEGORY

HOTELS 2nd CATEGORY

Mrauk-U

Sittwe

Mrauk U Princess

Royal Sittwe Resort

Shwe Thazin Hotel

Shwe Thazin Hotel
EXTENSION PRICE DOES NOT INCLUDE
- All personal expenses. Beverages. Tips