Kakku Trekking Tour
TREK TO KAKKU - 2 DAY/1 NIGHT

From Inlay Lake to Inlay Lake

Daily departure

Minimum: 2 persons
The site of Kakku, recently opened to tourism, is located in the middle of the Shan forest.To understand the development of the more than 1400 stupas surrounding the pagoda, it should be known that the ethnic group living on the hills dominating the Inlay Lake, the Pa-O, were supposedly born from the marriage of Zawgyi (male) with Naga (female). Of this union came 3 eggs. The 1st egg gave birth to the Pa-O which remained around the lake, the second to the Padaung ethnic group which moved to the Kayah state. In memory of their mother, the Naga, Padaung women wear necklaces on their necks, arms and legs. Often named by mistake "Giraffe women" they call themselves "Naga daughter".
To venerate Buddha and their parents the Pa-O and Padaung have, through centuries, built hundreds of stupas. The attentive walker can see sculptured effigies of Zawgyi and Naga there. To complete the legend nobody knows what happened to the third egg.
DAY 1: INLAY LAKE>HTI NE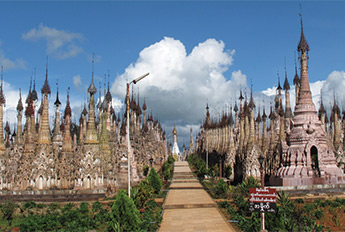 Morning boat from your hotel to Magyizeik, an Intha village where the 4 h 30 trek in the forest begins. Walk through Pa-O villages, orange tree orchards, garlic fields, and sebesten tree plantations set among the hills. Picnic on the way.
Spend the night in a Hti-Ne village close to Kakku which offers a very beautiful view of the lake. Typical village dinner.
DAY 2: HTI NE>KAKKU>INLAY LAKE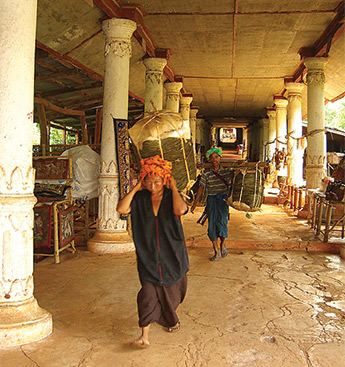 Breakfast. Trek towards Nang-ke where your vehicle to Kakku awaits you. Kakku visit and lunch at the on-site restaurant. At the end of the afternoon, road to Taunggyi and Nyaung Shwe.
Boat transfer to your hotel if located on the lake.

THE PRICE INCLUDES
TTransfers and transport in private car and boat.
Entrance fees, excursions and visits mentioned with English speaking guide.
Lodging and meals as described above.
LODGING IN HTI-NE VILLAGE
In the momastery or in a local home.

THE PRICE DOES NOT INCLUDE
All personal expenses. Beverages. Tips.