THE MERGUI ARCHIPELAGO
Minimum: 2 persons
PEARL OF THE ANDAMAN SEA : 5 DAY/4 NIGHT
The archipelago of the Mergui Islands extends in the south of Myanmar from Dawei to the Thai border. It is comprised of more than 850 scattered islands in a superb sea setting that is far away from any crowds, with fabulous pristine beaches. These islands inhabitants are the Moken. This ethnic group, because its always moves from island to island, is also called "sea gypsies" or "Salone".

The archipelago of the Mergui Islands was for a long time completely closed. Only during the last two years it has been opened to a limited number of adventurous tourists and divers. It is an absolutely unique place where you will be able to discover unvisited islands, intact nature and meet the famous "Sea gypsies" the Moken, who live most of the time on their boats.We propose several introductory programs in the Mergui Islands. During any of these cruise options, you will be able to sleep on a boat or in a tent on a beach, explore the islands of your choice in a sea kayak.

Diving/snorkeling opportunities are also available.As there are still few tourist going there, the starting date will be the one suitable for you. Two boats are making island tours: one for four, one for six persons. The use of the boat is for you only and we can asily incorporate this destination in your program in Myanmar.

The most frequent cruise duration is a 4-day /3-night roundtrip from Kaw Thaung, which including Yangonto
Yangonmakes for a 5-day/4-night trip.
MERGUI ISLANDS 5 DAY / 4 NIGHT PROGRAM

DAY 1: YANGON> KAW THAUNG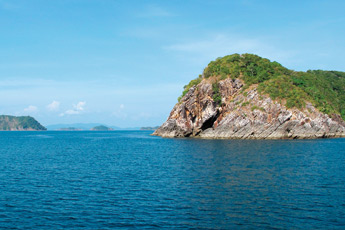 Flight to Kaw Thaung in the afternoon. Welcome and hotel transfer. Night in Kaw Thaung Honey Bear Hotel

DAY 2: KAW THAUNG>"115 ISLAND" (Lunch, Dinner)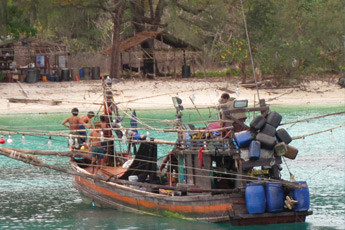 Embark on your boat where the crew is ready to go. Depart from Myoma jetty to "115 Island". Take a rest while the cook prepares lunch. Enjoy the lunch onboard. Arrival at "115 island". Leisure time to explore the beauty of this virgin island. Exciting activities include sea kayaking around the island, snorkeling, fishing, jungle trekking, swimming and sun bathing on the beach. Dinner onboard. After dinner, enjoy the stars and the peacefulness of the Adaman Sea. Overnight onboard near "115 island".

DAY 3: "115 ISLAND">NYAUNG WEE ISLAND>KYUNN PHILA ISLAND (Breakfast, Lunch, Dinner)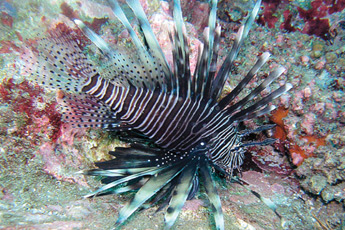 After breakfast, cruise to Nyaung Wee Island. Visit a Salone (Moken) village. Cruise to Kyunn Phila Island which used to be called Great Swinton Island - one of the most beautiful islands in Mergui Archilepago. Sea kayaking around the island. Dinner and overnight on the beach or onboard.
DAY 4: KYUNN PHILA ISLAND>CAVERN ISLAND>MYAUK NI ISLAND (Breakfast, Lunch, Dinner)
After breakfast onboard, enjoy the activities of your own interest such as swimming and sun bathing on the beach, snorkeling on the corals, or sea kayaking and fishing.
Lunch on board. Depart to Cavern and Myauk Ni Island. There you can enjoy the activities of your choice. Enjoy dinner and overnight onboard nearby Myauk Ni island.
DAY 5: MYAUK NI ISLAND>KAW THAUNG>YANGON (Breakfast, Lunch)
After breakfast, cruise to Kaw Thaung. Enjoy lunch on board. Arriving in Kaw Thaung, transfer to airport.
Flight to Yangon.
CRUISE PRICE INCLUDE
Domestic flights mentioned. Transfers in the private car. Program described activities. Lodging: double cabine on boat, double roon in listed hotels (or similar). All meals as in the program.
CRUISE PRICE DOES NOT INCLUDE
All personal expenses. Beverages. Tips.
HOTEL
Victoria Cliff Hotel & Resort