TREK AROUND KENGTONG
Minimum: 2 persons
DISCOVER SHAN ETHNIC GROUPS
The package tour, "discover Shan ethnic groups", departs daily from Yangon.
This tour can also be done as an extension of any of our regular tours. It can also start from Mandalay or Heho,
depending on your choice and flight availability.
PROGRAM 4 DAY/3 NIGHT
DAY 1: YANGON or MANDALAY or HEHO> KENGTONG(Dinner only)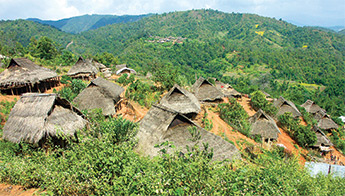 Flight to Kengtong, installation at your hotel.
Walk around Lake Naung Tong, then the heart of city, which is dominated by the immense Buddha at the Zoam
Sak Pagoda. Visit the old monastery Wat Jong Kham.
Dinner in a local restaurant, night at the hotel.
DAY 2: KENGTONG(Breakfast, lunch, dinner)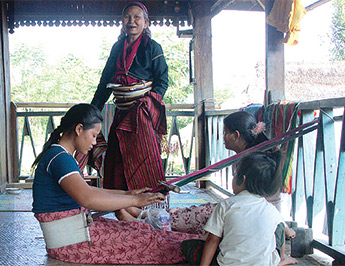 A full day is dedicated to visiting and meeting Shan ethnic groups. See the Akha which are a majority here and Lahu which keep alive Tibetan traditions and habits.
Walk in the village of Kat Tauk, then Pine Tauk with its Baptist church and waterfalls, then walk towards Wanpin for a picnic. Trek to the Akha catholic village of Wanlar, then on to the Ann village of Nam Lin Kaung.
The Ann are animists. Ann have black teeth because they chew a certain tree bark. Walk to the paddy field close to Nam Lin May.
Return by car to Kengtong. On the way visit a "Silver Palaung" village which is called this because the women wear silver belts. Then see a rice distillery.
Dinner in a local restaurant, night at the hotel.
DAY 3: KENGTONG(Breakfast, lunch, dinner)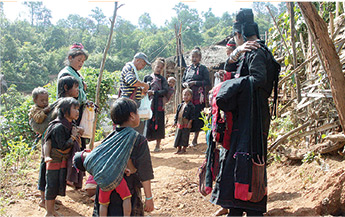 If road conditions permit, a car tour through the Kengtong surrounding hills will be arranged. In either case, there will be a walk to reach the top of Hokyin mountain. In a splendid mountain landscape trek to discover Akha
villages of various religions: Buddhist, animist and catholic. Picnic on the way.
Return to Kengtong. Visit a Shan lacquerware workshop in the area. The Shan lacquerers have a unique technique to make designs by mixing string and lacquer resin.
Before having dinner in a restaurant, admire the panorama from the "Lone Tree Hill", a nearby 350-year-old tree. Dinner in a local restaurant, night at the hotel.
DAY 4: KENGTONG>YANGON or HEHO* (Breakfast, lunch)
*if this routing is an extension of anyone of our regular tours.
Morning walk in the market and visits to Wat In and Wat Maha Myat. If time permits, a visit to a pottery and an iron workshop will be possible.
After lunch transfer to the airport.
TREK PRICE INCLUDES
Domestic flights mentioned.
Transfers in the private car.
Lodging in double room in the listed hotel (or similar).
All meals as in the program.
HOTEL
Princess hotel
TREK PRICE DOES NOT INCLUDE
- All personal expenses. Beverages. Tips.