GOLF TOUR 9 Days/ 8Nights


Minimum: 2 persons

PROGRAM: YANGON > BAGAN > POPA > MANDALAY > TAUNGGYI > INLAY LAKE > YANGON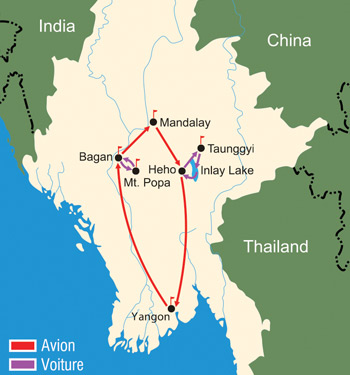 DAY 1: YANGON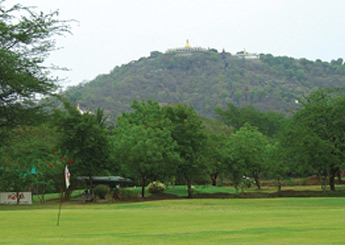 Arrival in Yangon. Airport welcome and then transfer to your hotel.Visit Yangon's National Museum, its handicraft market,"The Bogyoke Market". Lunch on your own.
Afternoon: Visit Chauk Htat Gyi, the reclining Buddha, then the Shwedagon Pagoda, the spiritual heart of Yangon and emblem of Myanmar.
DAY 2: YANGON>BAGAN
Morning: Pun Hlaing 18-hole Golf course. Lunch on your own.
Afternoon: Transfer to the airport, flight to Bagan, transfer to your hotel.
DAY 3: BAGAN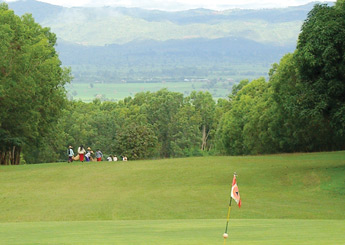 Morning: Bagan 18-hole Golf course.Lunch on your own.
Afternoon: Visit old Bagan, vestige of the golden age of Burmese architecture. This archeological site has more than 2500 pagodas and stupas from the 11th century. Among other things visit some famous temples such as Ananda, Thatbyinnyu which with its 67 meters dominates all other temples
on the Bagan plain. Admire a sunset from the terrace of a pagoda.

DAY 4: BAGAN>POPA
Morning: Bagan 18-hole Golf course.
Lunch on your own.
Afternoon: Road to Mount Popa Resort. Stop on the way to see the artisanal manufacturing of sugar, palm wine & alcohol, and sesame oil.
DAY 5: POPA>BAGAN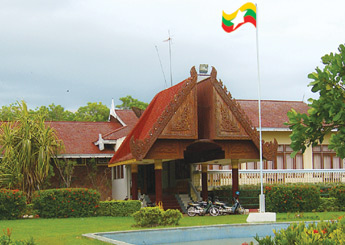 Morning: Popa Golf Resort 9-hole course which is played twice.Lunch on your own.
Afternoon: Visit Popa Taung Kalat, a pagoda perched on a volcanic cliff. Mount Popa is the place of Nats which are spirits whose capacities nourish important Myanmar beliefs and popular legends.
Road to Bagan.
DAY 6: BAGAN > MANDALAY
Morning flight to Mandalay.On the way to the hotel, visit Mahamuni Pagoda, and then
see Mandalay's silk weaving, wood, marble & bronze carving workshops.Lunch on your own.
Afternoon: visit monasteries: Shwe Inbin, Shwenandaw, Khuthodaw Pagoda, with the largest stone book in the world. To end the day admire the sunset from the Mandalay Hill Pagoda.
DAY 7: MANDALAY>TAUNGGYI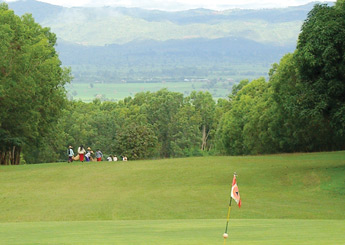 Morning: Mandalay Shwe Man Taung 18-hole Golf courseLunch on your own.
Afternoon: transfer to the airport, flight to Heho. Transfer to the hotel located on Taungyi golf course.
DAY 8: TAUNGGYI>INLAY LAKE
Morning: 18-hole course at Aye Thar Yar Golf Resort.Lunch on your own.
Afternoon: road to Nyaung Shwe, the entrance city of Inlay Lake. Boat transfer to hotel. Visit the Nga Hpe Chaung Monastery, also called "the jumping cat Monastery". Then visit Phaung Daw U
Pagoda, the most important pagoda on the lake.
DAY 9: INLAY LAKE>YANGON>YOUR COUNTRY
Morning: Boat excursion to a local market. Transfer to the airport, flight to Yangon.
Lunch on your own.
Free afternoon. The last occasion to make souvenir purchases before your departure for the airport. Return flight to your country.
TOUR STRENGTH
A mix of the practice of your favorite sport on the 5 most beautiful Myanmar golf courses and the discovery of the Golden Land's main touristic sites.
TOUR PRICE INCLUDES
All domestic flights mentioned.
Transfers and transport mentioned in the particular tour.
All entrance fees, all excursions and visits mentioned with English speaking guide from Yangon to Yangon.
Double room lodging in the listed hotels (or similar).
Breakfast and dinner.
HOTELS 1st CATEGORY

HOTELS 2nd CATEGORY

Yangon

Pagan

Mandalay

Tuunggyi

Lac Inlé

Novotel Yangon Max Hotel

Aureum Palace Hote

Mandalay Hill Resort

Aye Thar Yar Golf Resort

Pristine Latus Spa Resort

Hotel Parami

Myanmar Treasure Resort

Mandalay City Hotel

Aye Thar Yar Golf Resort

Galden Island Cattages
Supplement for individual room: Consult us.
Higher category hotels are available with supplement. Consult us
TOUR PRICE DOES NOT INCLUDE:
Visa
All personal expenses, Beverages, Tips.
INTERNATIONAL AIR CARRIER
We only take care of the Myanmar part of your journey. To arrive in Yangon choose the international air carrier that will offer the best price.
FORMALITIES:
Visa requested