14 Day /13 Night Individual Tour
"THE BEST OF MYANMAR"
Number of participants: 2 persons minimum
PROGRAM: YANGON > GOLDEN ROCK > BAGAN > POPA > MONYWA > PO WIN DANG CAVES > SAGAING > MANDALAY > MINGUN >
PYIN OO LWIN > PYNDAYA CAVES > INLAY LAKE > YANGON
DAY 1 : YANGON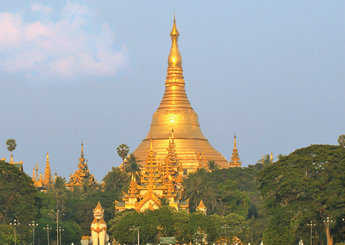 Airport welcome and hotel transfer. Visit Chauk Htat Gyi Pagoda. Its reclining Buddha is the second largest in Myanmar. Visit the Myanmar National Museum. Afternoon: Visit the Botataung Pagoda where there is a beautiful Buddha statue which used to be in London's British Museum. At sunset, visit the Shwedagon Pagoda, one of the 4 most venerated Myanmar pagodas.
DAY 2 : YANGON - KYAIKTHYO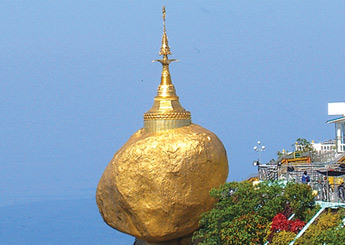 Road to the famous Golden Rock, perched in balance on a cliff and transformed into a gilded sanctuary. All year long it's one of the major places of Buddhist pilgrimag Approach is made in an uncovered truck. At sunset final climbing (4 km) with the pilgrims
DAY 3 : KYAIKTHYO - BAGO > YANGON
Road to Bago. Visit Shwemawdaw, a pagoda of over 1000 years, Shwethalyaung Pagoda where the greatest reclining Buddha in Myanmar is located. Afternoon: road to Yangon, stops at the Allied Cemetery and at the banyan tree devoted to Myanmar spirits, the "Nats".
DAY 4 : YANGON - BAGAN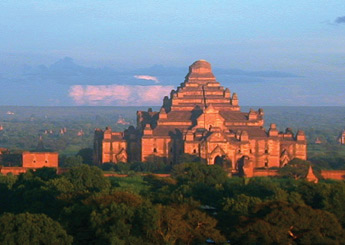 Airport transfer for Bagan flight. Hotel transfer. Discover the Bagan plain. Built by king Anawrahta,
Bagan was the capital of 1st Bamar dynasty. At the 10th century the plain was covered by more than 10,000 temples. After centuries and the 1976 earthquake, more than 2,500 remain. Visit major temples: Ananda, Thatbynnyu, Htilominlo, Dammayangyi, Sulamani, Shwezigon, Ah Lo Daw Pyae etc. Sunset from the terrace of a pagoda.
DAY 5 : BAGAN >SALE> MOUNT POPA
Promenade in the lacquerware village Myinkaba. Its Manuha Pagoda contains rare sandstone carvings. Visit lacquerware workshops. Road to Sale. Visit Sale's 19th century monastery for its teak facade that is magnificently carved, and the pagoda where the largest lacquerware Buddha throne (11th century) is found. Road to Mount Popa.
Visit of Taung Kalat Monastery perched on the top of a volcanic peak. Mount Popa is also the place of the "Nats" spirits that nourish numerous beliefs and popular legends.
DAY 6 : MOUNTPOPA>PO WIN TAUNG>MONYWA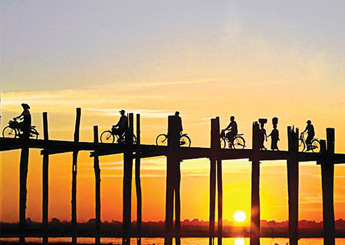 Road to Nyaung U. Irrawaddy River crossing to Pakkoku. Visit the famous cotton market. Road to Po Win Taung caves. On the way, visit Pakkhangyi and Kyaung Pakhan Nge monastery. Visit Po Win Taung caves for its 14th-18th century carved facades and mural paintings. Road to Monywa
DAY 7: MONYWA > SAGAING > MANDALAY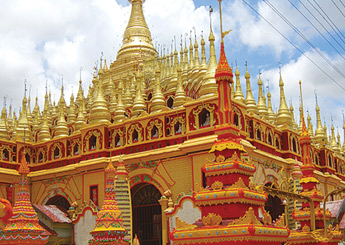 Visit Thanboddhay Pagoda, impressive because of the hundreds of thousands of Buddhas which decorate it. Road to Sagaing. Visit Kaung Hmu Daw Pagoda whose architecture is directly inspired by the most famous Sri Lankan pagoda. Visit Sagaing Hill, covered by numerous monasteries. It is the yanmar's "praying and meditation hill". At sunset visit Sun U Ponya Shin Pagoda. From its terrace admire the Irrawaddy valley. Road to Mandalay.
DAY 8: MANDALAY
Visit Shwe Inbin and Shwenandaw monasteries. The second is very interesting for it is the only vestige
of the Mandalay Palace. Visit Pagoda Khuthodaw which contains the largest stone book in the world. Road to and visit Mahamuni Pagoda. On the way stop at weaving, tapestry, marble, wood and bronze carving districts. End of the day visit the Mandalay Hill Pagoda. From its terrace enjoy sunset and a
lovely view of the city. Dinner. Burmese traditional puppet show.
DAY 9: MANDALAY >MINGUN > AVA > AMARAPURA
Boat to Mingun. Visit the unfinished king Bodawpaya Pagoda, which has the largest sounding bell in the world, and the 7 circular terraces Myatheindaw Pagoda. Visit Ava, royal city from 1364 to 1840, located on an island in the middle of the Irrawaddy River. On the way back
to Mandalay, walk on the U Bein Bridge. Visit the Kyauktawgyi Pagoda for its murals paintings. Sunset lake crossing in a sampan.
DAY 10 : MANDALAY / PYIN OO LWIN
Road to Pyin Oo Lwin. Visit its market, and its amazing botanical park. Pyin Oo Lwin and its
surroundings are the places where coffee, flowers, strawberries and pineapples are cultivated. It is also the city of silk. Many hills are covered with mulberry trees for their leaves are used to feed silk worms. Visit the water falls of Peik Khyin Myaung.
DAY 11: PYIN OO LWIN> PINDAYA > INLAY LAKE
Road to Mandalay airport. Flight to Heho and road to the astonishing caves of Pindaya. In dim light see thousands of Buddhas of all styles and all materials which cover the walls and make the place very impressive. Before the road to Inlay Lake, visit a mulberry paper and umbrella workshop. Boat transfer to hotel.
DAY 12 : INLE LAKE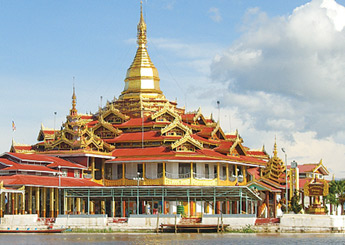 All-day boat excursion through Intha villages and floating gardens. Visit traditional market, visit Phaung Daw U, the lake's most important pagoda which shelters 5 immensely venerated Buddhas. Visit a goldsmith and cheroot (Myanmar cigar) workshop, and In Paw Khone, silk weavers.
DAY 13: INLAY LAKE > YANGON
Visit the market and the pagoda of In Dein. Boat transfer to Nyaung Shwe. Visit Shwe Yamphye Monastery. Road to Heho and flight to Yangon. Hotel transfer. End of day free.
DAY 14: YANGON>YOUR COUNTRY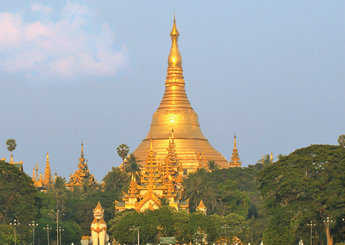 Visit downtown and Sule Pagoda. Free afternoon. Last minute shopping in the famous handicraft Bogyoke Market, then Zawgyi House. Airport transfer to catch your returning flight.
TOUR STRENGTH
The magic of the Bagan plain and its 2500 temples and pagodas. The charm of Mandalay. The holy caves of Pindaya.
The romantic Inlay Lake.
TOUR PRICE INCLUDES
All domestic flights mentioned.
Transfers and transport mentioned in the particular tour.
All entrance fees, all excursions and visits mentioned with English speaking guide from Yangon to Yangon.
Double room lodging in the listed hotels (or similar).
Breakfast and dinner
HOTELS 1st CATEGORY

HOTELS 2nd CATEGORY

Yangon

Kyaikthyo

Pagan

Monywa

Mandalay

Lac Inle

Kandawgyi Palace

Mountain Top Hotel

Aureum Palace

Win unity Resort

Mandalay Hill Resort

Pristine Lotus Spa Resort

Hotel Grand United

Mountain Top Hotel

Arthawka Hatel

Win unity Resort

Mandalay City Hotel

Galden Island Cottages
TOUR PRICE DOES NOT INCLUDE:
Visa
All personal expenses. Beverages. Tips.
INTERNATIONAL AIR CARRIER
We only take care of the Myanmar part of your journey. To arrive in Yangon choose the international air carrier that will offer the best price.
FORMALITIES:
Visa requested